Romantic idealists often dream about finding "the one." I think soulmates probably exist in life (heck, even I got married), but is the same true for bikes? 
Even though I keep things fresh with the latest and greatest bike tech, the idea of settling down has become more and more appealing. I'm tired of the stress of constantly buying, selling, and trading in my bikes. I think if I could just find the right bike, I'd be content for the rest of my cycling days. 
That's why this week's question is all about our most treasured two-wheeled partners. We want to know: What's a bike you intend to keep forever?
Leave us a comment below with your best answer. Polls close next Monday at noon, and after that, a winner will be randomly chosen from the commenters. This week's grand prize is once again a limited-edition TPC x Lead Out handlebar bag!
UPDATE: This week's winner, randomly selected from the commenters, is Aaron with his custom fixie.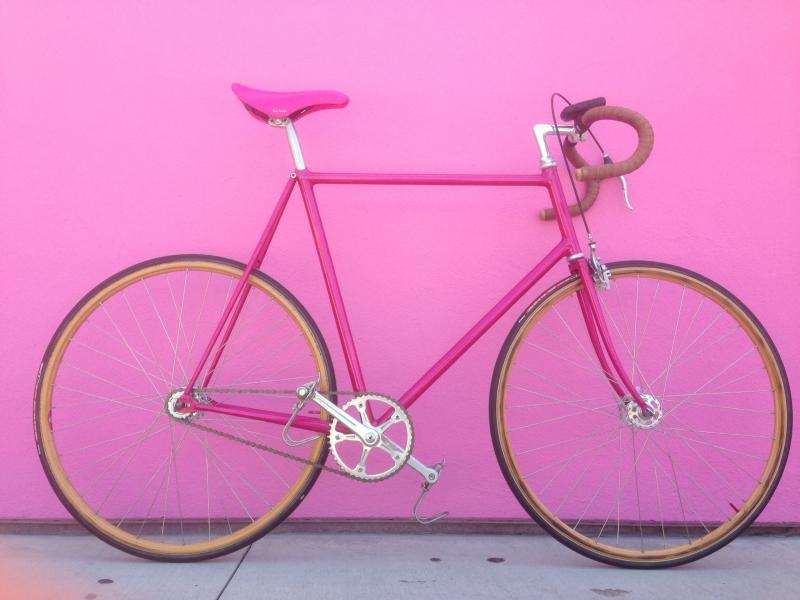 "My custom Peter Johnson fixed gear. Incredibly massaged lugs, Peter also filed the stem and seatpost. Paint by Brian Baylis. Incomparable."
There were tons of amazing bikes shared in the comments, so make sure you scroll down and soak in all that eye candy!
[newsletter]
I've had a few bikes that had the potential to be "forever" bikes, but ultimately, they only lasted a season or two before I moved on. Now though, I think I might have found the one: a 2020 Specialized Allez Sprint. 
I know what you're thinking, an aluminum road bike? Really!? Listen, mom, I know you have doubts but I'm 100% serious this time. For my forever bike, I want metal instead of carbon. I've dabbled in steel and titanium, but I care more about aerodynamics than ride quality and prefer the aggressive look of deep-section tubing. The best option for me is the slippery, hydroformed aluminum frame of the Allez Sprint.
A close up of the holographic foil matchsticks.
Not only is the Allez Sprint fast, but it comes with amazing paint too. For 2020, Specialized released a limited number of frames in the "Meet Your Match" colorway. With pink and purple accents and holographic foil matchsticks, I instantly knew this was the bike for me. I searched for a full year until I finally found one in my size, and I paid way too much for it. For now, it's built up with an older SRAM Red 22 mechanical group, but I will probably update it in a few years. If I ever retire the bike, I plan to hang it up in my den instead of selling it. In my eyes, it's a modern classic, and true art deserves to be displayed.  
Okay, now it's your turn! Hop into the comments below and tell us about a bike that you'll never sell. Better still, if you have photos to share, please add them — we just upgraded to a fancy Disqus comment system that'll let you do that. I can't wait to hear about all of your amazing forever bikes!